World Traveler Club Members get whooping  30% Off at the G-Spa in Denpasar, Bali, Indonesia. 
Located in Denpasar close to Sanur of Bali, Indonesia, with the 10 spa therapy suites that offer a heaven of serenity & harmony.
Through the healing hands of superbly trained therapist, we present best treatments for your body, beauty health and soul.
Enjoy this delightful blend of massage techniques: traditional Balinese massage, reflexology, face and hand massage. Results in improved circulation, released muscle tension, and soothing relaxation.
G-Spa have also spa package that combination between Spa Treatment and Body Massage.
Enjoy the rituals of journey through sacred Eastern traditions of health and beauty. Our Theraphyst's skills are also Spiritual, Yoga, meditation, Prana breath, by those skill they can serve better massage and other treatments with more concentration and pure services.
The treatment rooms are the perfect space to relax completely under the trained hands of your therapist.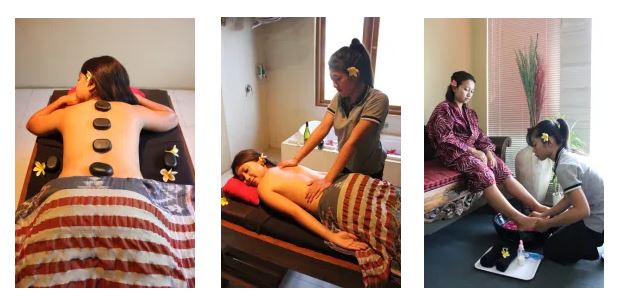 The perfect place to treat that special person…enjoy G-Spa
At G-Spa room with Typical Balinese Spa music to relax together and share an experience that will surely be one of the highlights of your memorable holiday in Bali.

Address :
Jalan Gatot Subroto Timur, East Denpasar, Denpasar, Bali 80237, Indonesia
Open from 9:00 am till 9:00 pm
Booking:  Tel: +62-85-100-445-880 / +62-81-139-8469
To get 30% off just book with your World Traveler Club username.
Example treatments:
G-1. BALINESE TRADITIONAL MASSAGE ( ± 1 Hours ) – USD 25
Balinese tradisional massage using acupressure teckniques of Balinese touches and relaxing stretching in order to improve blood circulation and tired aching mucles. Ginger tea will be served.
---
G-2. HERBAL MASSAGE ( ± 1.5 Hours ) – USD 45
Herbal massage with the touches of our therapeutic massage using steamed herbs pack. The herbal pack contains a blend of specific natural Indonesian herbs believed to have medicinal and healing herbs. The application of this essence in massage is intended to relieve sore muscles and tired joints, strengthen your body immune system and reactivate energy flow, and make you feel better.
---
G-3. WARM STONE MASSAGE ( ± 1.5 Hours ) – USD 50
Warm stone massage is a traditional massage which uses warm stones to provide and hold a sustained heat to specific areas of the body. This eases stress and tension and increases circulation to the affected tissues resulting in a relaxed revitalized and rejuvenated body and make better blood circulation as well.
---
G-4. AROMATHERAPY MASSAGE ( ± 2 Hours ) – USD 50
Aromatherapy massage is the combination of techniques of traditional massage, with essential oils. When a Aromatherapy massage is performed, great attention is paid to the scents used in the massage natural oil.
---
G-5. REFLEXOLOGY ( ± 30 minutes ) – USD 25
Reflexology is a Tradional massage technique that focuses on the Legs and feet , It provides relief and improves general health by relieving in important pressure points on the feet, since feet is one of the nerve center.
---
G-7. MANICURE OR PEDICURE ( ± 30 Minutes ) – USD 25
Enperience a short relaxing hand or foot massage, filing and shaping of the nails with a color or clean enamel applied , many different colors can be chosen.
---
G-8. G-SPA BODY TREATMENT ( ± 2.5 Hours ) – USD 55
Aromatic Footh Wash – Body Massage – Traditional Scrub lulur – Milk Body Polish – Flower Bath – Ginger Tea
---
G-9. CHOCOLATE RELAXING ( ± 2.5 Hours ) – USD 60
Aromatic footh wash – Aromatherapy Body Massage – Chocolate Body Scrub – Chocolate  Body Polish – Flower Bath – Ginger Tea
and many more …..