Singapore Airlines
is synonymous with luxury, impeccable service, and an unparalleled travel experience. When it comes to flying in First or Business Class with Singapore Airlines, passengers are treated to a level of comfort and sophistication that is second to none. From fully-flat beds to personalized dining options, state-of-the-art entertainment, and exclusive amenities, Singapore Airlines offers a premium journey that ensures passengers arrive at their destination feeling refreshed and ready for their next adventure. Let's delve into the opulence and convenience that await travelers in First and Business Class on different Boeing aircraft.
Business Class – A380:
The A380 Business Class cabin by Singapore Airlines redefines luxury in the skies. Passengers are welcomed into a haven of comfort and elegance, where every detail has been carefully curated to enhance the travel experience.
Sit Back, All the Way Back: The handstitched full-grain leather seats by Poltrona Frau are not only exquisitely crafted but also fully recline into a spacious and comfortable flatbed. Sculpted wings provide excellent support while lounging and then flatten to ensure a perfect night's rest, allowing passengers to transition effortlessly from boardroom to bedroom with just a push of a button.
Be Alone, Together: Center seats come with a personal divider, offering passengers the flexibility to create their own private space or share the cabin with a travel companion. This thoughtful feature ensures privacy when desired and a comfortable, shared space when traveling with a friend or colleague.
Everything Within Reach: The Business Class seats on the A380 are intelligently designed with multiple stowage compartments, offering ample space to store cabin luggage, laptops, and personal belongings. It's like having your corner office with an incredible view at 35,000 feet.
Entertainment with a Personal Touch: The A380 Business Class provides passengers with a world-class entertainment system, featuring an 18″ high-definition touchscreen monitor and noise-cancelling headphones. With over 1,000 entertainment options, from Hollywood to Bollywood, travelers are sure to find something to suit their preferences.
Fine Dining and Personalized Meals: Singapore Airlines takes inflight dining to a whole new level with its Book the Cook service, allowing passengers to reserve their main course up to 24 hours before the flight. The meals, created by celebrated chefs from the International Culinary Panel, are served on fine porcelain from Narumi and paired with exquisite wines, ensuring a truly elevated dining experience.
Rejuvenation with Penhaligon's Toiletries: The dedicated Business Class lavatories are equipped with a luxurious selection of toiletries from Penhaligon's, offering a refreshing experience for passengers during their journey.
Business Class – A350 and 777:
The A350 and 777 Business Class cabins continue the tradition of luxury and comfort, providing travelers with an enhanced journey.
New Seat Positions: The A350 and 777 Business Class seats feature two new positions: the Lazy Z, a cradling position for optimal balance, and the Sundeck, a lounging position with an extended footrest for added leg comfort.
Fully-Flat Bed: Handcrafted from Scottish leather and diamond-stitched, the Business Class seats transform into fully-flat beds with cushioned headboards, linen, duvet, and pillows for a restful night's sleep.
Stowage Space and Connectivity: A side console above the armrest provides convenient stowage for laptops and easy access to ports (eXport, HDMI, and USB) for charging electronic devices.
Book the Cook and Fine Dining: The Book the Cook service offers a diverse range of meal options, and Business Class passengers can enjoy a restaurant-style dining experience onboard with table service and perfectly matched wines.
KrisWorld Entertainment: Business Class passengers on the A350 and 777 can indulge in a vast array of entertainment options on HD touchscreen monitors, with personalized recommendations for KrisFlyer members.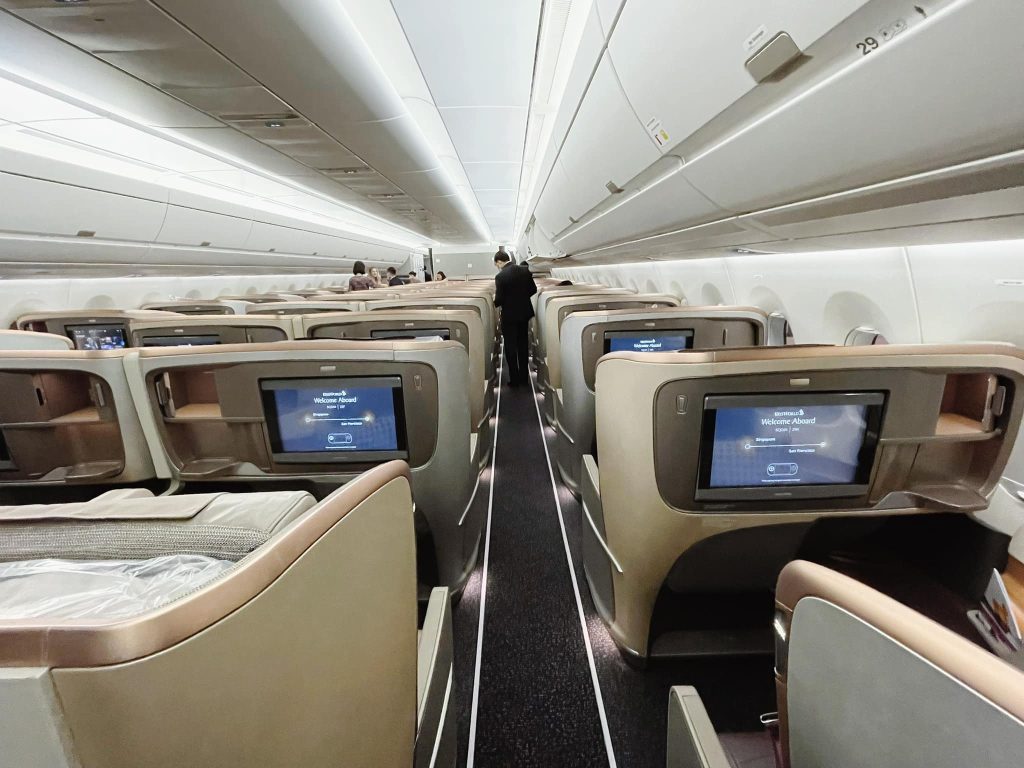 Business Class – 737-8:
The Business Class experience on the 737-8 promises maximum comfort for shorter flights.
Fully-Flat Beds: Ergonomically designed leather seats recline to fully-flat beds over six feet long, ensuring passengers can rest and rejuvenate during their journey.
Prime Standalone Seats: The exclusive 2-1-2 forward-facing seat configuration along a single aisle offers greater personal space and freedom for passengers.
Gourmet Dining Options: Passengers can choose from a delightful selection of meals from the Book the Cook menu, created by celebrated chefs. The meal is complemented by fine wines recommended by wine experts.
Curated Tablet Entertainment: As in-seat monitors are not available on this aircraft, passengers can enjoy a curated selection of entertainment options on a provided tablet.
First Class:
Singapore Airlines First Class redefines opulence and exclusivity, providing passengers with a truly luxurious and private experience.
Private Space: First Class passengers enjoy the utmost privacy with sculpted headrests, plush seatback cushions, and extended curved partitions for a cocoon-like atmosphere.
Extra Wide Seats: Hand-stitched luxurious leather seats offer ample space, and passengers can relax in any position comfortably.
Mood Lighting: Intense to cool reading lights and ambient lights can be personalized to create the perfect environment for reading, working, or relaxing.
Book the Cook and Fine Dining: First Class travelers have the privilege of reserving their main course from the Book the Cook menu and enjoy a restaurant-style dining experience with the finest wines.
KrisWorld Inflight Entertainment: First Class passengers are pampered with a 24-inch HD-enabled personal LCD monitor and a video touchscreen handset, offering an extensive selection of entertainment options.
Singapore Airlines consistently sets the standard for luxury air travel with its First and Business Class offerings. Whether traveling on the spacious A380, the modern A350 and 777, or the efficient 737-8, passengers can expect an indulgent experience that includes fully-flat beds, personalized dining options, and state-of-the-art entertainment systems. From the moment travelers step onboard, they are treated to a level of service and sophistication that epitomizes the Singapore Airlines brand. The combination of comfort, convenience, and elegance ensures that every journey with Singapore Airlines is a memorable one, making it the preferred choice for discerning travelers worldwide.
Here a recent BUSINESS CLASS deal with Singapore Airlines for flights from Australia to France
Book here:
Click here to book:

Hotels
Flights
Airport Tansfers
Car Rentals
Vacation Rentals
Tours & Activities
Please note, all the information on this page is accurate at the time of publication. If you view this deal at a later date, prices and deals may have changed.
ACT FAST AND TAKE ADVANTAGE of deals before they're gone! Remember, the best deals will often disappear within minutes!
All deals are limited and may not be available on all dates.
If you have a question or you need an individual travel deal, please use our
travel forum
.
You want more deals like this?
As a World Traveler Club Gold or Platinum Member you have access to our
PREMIUM CLUB
and our "Deal Scanners" with over 700 amazing travel deals from over 200 travel sites, portals, blogs, and databases.

Sign up for one of our membership plans
and become a premium member of the WORLD TRAVELER CLUB.
Follow and subscribe to
World Traveler Club on Facebook
to remain up to date with our other deals, and
share share share!