Hello World Traveler Club Member!
If you planning to visit Malta, we have a perfect hotel deal for you!
Stay in Malta at Solana Hotel starting from only $30 / €28 per night per room with free cancellation (based on 2 guests)!
4* Solana Hotel & Spa is located a 10-minute walk from the beach on Mellieha Bay. The rooftop terrace with a pool is a real highlight. The hotel features an indoor pool with a hydromassage corner, a gym and a children's playroom.
Your oasis in Malta, away from the hustle and bustle but right in the centre of Mellieha. Choose From Our Selection Of Newly Renovated Rooms, Suites And Studios. Amazing Facilities. Perfect Location. Close to the beach.
So, what are you waiting for?
Act fast and book now!
Example: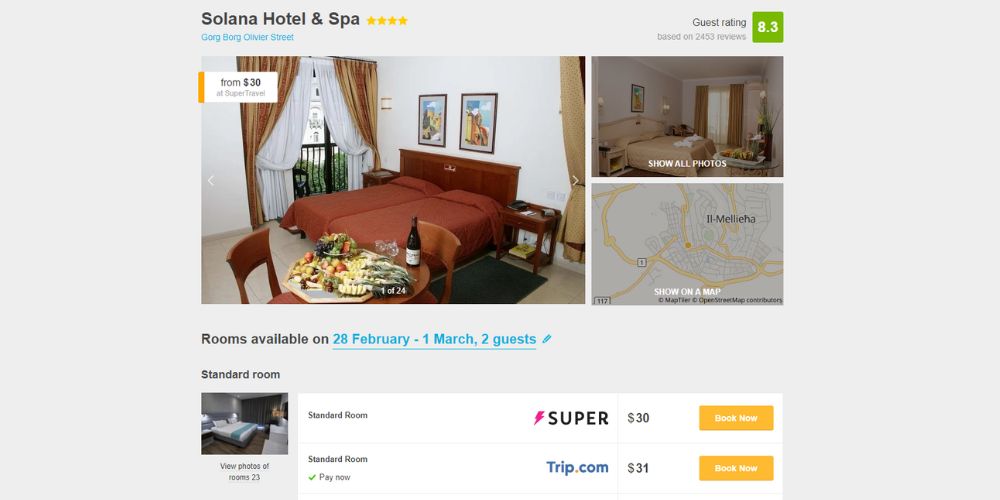 Hotel Description: Everything you need is in one place. Resort «Solana Hotel & Spa» is located in Mellieha. This resort is located in the city centre. Before going to bed, you can take a walk and enjoy the main landmarks of the city. At the resort Spend an evening in the nice atmosphere of the bar. You can stop by the restaurant. The resort cafe is a nice place to have a snack. Want to be always online? Wi-Fi is available. If you travel by car, there's a parking zone. The beauty and wellness services: a massage room, a sauna, a spa centre and a doctor. Sports fans are going to love a fitness centre, a gym and a diving club. Get ready for a fun and exciting vacation! Here's what you will find on the premises: a library. Here, you can treat yourself to water procedures as there will be a pool, an indoor pool and an outdoor pool. There are playrooms for children at the resort. They will be having so much fun that you might have to spend the evening with adults. To book an excursion, consult the tour assistance desk of the resort. For free movement around the city, the resort offers a transfer for you. Accessible for guests with disabilities: the elevator helps them to go to the highest floors. There are other services available for the guests of the resort. For example, laundry, dry cleaning, an ATM, ironing, press, car rental, a safe-deposit box and a concierge. The staff of the resort will be happy to talk to you in English, Italian, German, Russian and French. Room amenities In the room, for you, there is a TV and a mini-bar. Please note that the listed services may not be available in all the rooms.
Please note, all the information on this page is accurate at the time of publication. If you view this deal at a later date, prices and deals may have changed.
ACT FAST AND TAKE ADVANTAGE of deals before they're gone! Remember, the best deals will often disappear within minutes!
All deals are limited and may not be available on all dates.
Note:
COVID is still ongoing around the world. Please consult with health authorities on guidance and restrictions regarding travel, including COVID-19 testing, proof of vaccination, and possible quarantine requirements. Here you can find the
current entry requirements for most countries.
Follow and subscribe to
World Traveler Club on Facebook
to remain up to date with our other deals, and
share share share!
Click here to book:
Hotels
,
Flights
,
Airport Tansfers
,
Car Rentals
,
Vacation Rentals
,
Tours & Activities