This deal is no longer valid.
You missed this deal.
But you can find more current deals here.
Don't miss the next amazing deal! 
Sign up and become a member of the World Traveler Club
We found some ULTRA CHEAP BUSINESS CLASS tickets fror flights from Bali, Indonesia to New York, USA from only US$ 1324 (round-trip)
At Exepdia or JetBlue website you can book ULTRA CHEAP business Class tickets from Denpasar, Bali, Indoneasia to New York, USA for only US$ 1324 for a round-trip with Qatar Airways.
You have to book with Expedia, Orbitz, Travelocity, or Jetblue website.
This can be an error fare.  M𝑎𝑦 𝑜𝑟 𝑚𝑎𝑦 𝑛𝑜𝑡 𝑏𝑒 ℎ𝑜𝑛𝑜𝑢𝑟𝑒𝑑 𝑏𝑦 Q𝑎𝑡𝑎𝑟 Airways.
Many dates ate available in 2023.
We could found available dates until August 2023.
Alliance: SkyTeam
See Example:
When you put the Price Drop Protection you can book it with Expedia for  US$ 1475: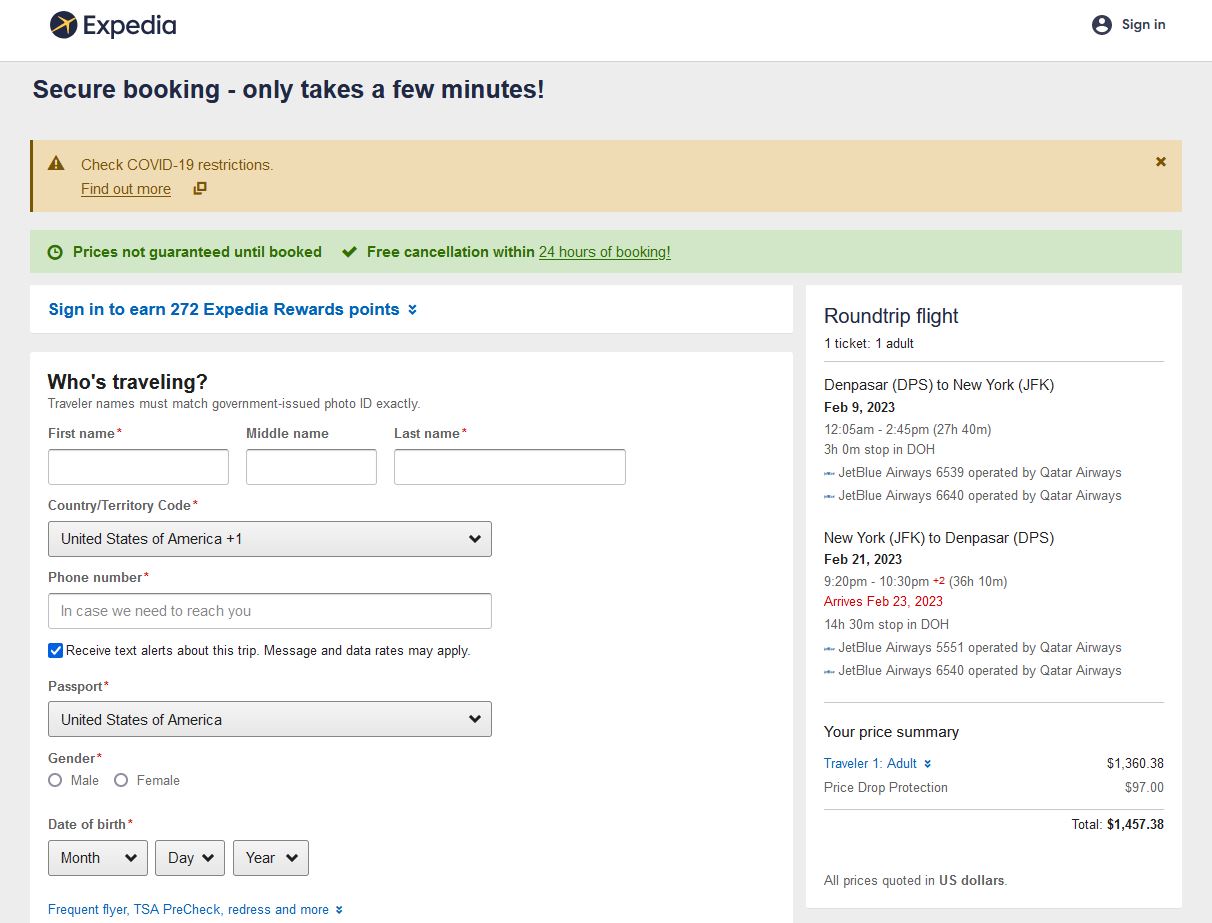 How to book:
You have to book with Expedia , Orbitz, Travelocity, or Jetblue website.
This can be an error fare.
Normally, you can't book an error fare for more than a couple of hours.  So hurry up!
Generally, mistake fares happen when airlines or OTA misprice the cost of a ticket.
Not: You should hold off on making immediate plans, such as booking hotels or rental cars, until your flight has been ticketed.
We suggest avoiding non-refundable reservations until you've shored up your plans, and you know the airline intends to honor the ticket.
Please note, all the information on this page is accurate at the time of publication. If you view this deal at a later date, prices and deals may have changed.
ACT FAST AND TAKE ADVANTAGE of deals before they're gone! Remember, the best deals will often disappear within minutes!
All deals are limited and may not be available on all dates.
Note:
COVID is still ongoing around the world. Please consult with health authorities on guidance and restrictions regarding travel, including COVID-19 testing, proof of vaccination, and possible quarantine requirements. Here you can find the
current entry requirements for most countries.
Follow and subscribe to
World Traveler Club on Facebook
to remain up to date with our other deals, and
share share share!
New York Map & Hotel Deals: