Thailand is calling! Don't miss out on this deal!
Saudia is offering excellent fares from Zurich, Switzerland to Bangkok, Thailand from only €477 for a round trip!
Travel the World without the Price Tag: Cheap Flight Deals Here!
Thailand is an incredibly well-known travel destination, as it's pristine beaches and tropical islands have been the subject of countless films and holiday daydreams and Patong Beach is one of the hottest and favourite destinations among its visitors. The secret to Thailand's success: beautiful places, affordable prices and welcoming people! Bangkok is the capital city of Thailand and a popular destination for travelers from around the world. It is known for its vibrant street life, ancient temples, delicious street food, and bustling markets.
Travel dates: September – October 2023; January – February 2024
Sample dates: Sep 18 – Oct 3, Sep 18 – Oct 12, Sep 25 – Oct 12, Sep 25 – Oct 19, Oct 4-19, 4-26, 11-26, 11-28, 13-26, 13-28, Jan 24 – Feb 6, Jan 31 – Feb 13, Jan 31 – Feb 20, Feb 7-20
Route: Zurich – Bangkok – Zurich
Sample: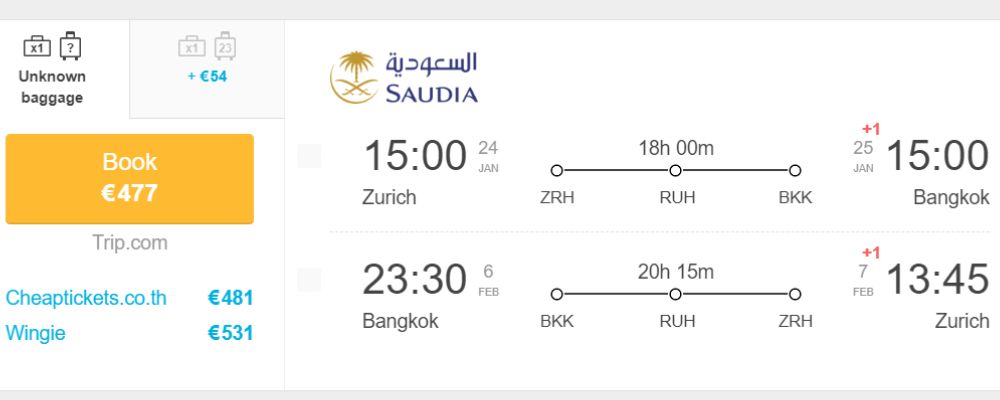 How to book?
To get this deal you can use the flight search box above. Just enter the travel dates, origin, and destination as seen in the deal description and select the cabin class.
Of course, you can adjust your origin and destination as well as your desired dates of travel (though prices and availabilities may change).
You can also book the flights at: JetRadar, CheapOair, Trip Flights, Swiss, CheapTickets, Travel-Dealer, Kayak, Opodo, Travel Overland or Kiwi. We always recommend booking directly with the airline.




Click here to book:
Hotels Flights Airport Tansfers Car Rentals Vacation Rentals Tours & Activities


Book here your hotels in Bangkok for less:
Please note, all the information on this page is accurate at the time of publication. If you view this deal at a later date, prices and deals may have changed.
ACT FAST AND TAKE ADVANTAGE of deals before they're gone! Remember, the best deals will often disappear within minutes!
All deals are limited and may not be available on all dates.
If you have a question or you need an individual travel deal, please use our
travel forum
.
You want more deals like this?
As a World Traveler Club Gold or Platinum Member you have access to our
PREMIUM CLUB
and our "Deal Scanners" with over 700 amazing travel deals from over 200 travel sites, portals, blogs, and databases.

Sign up for one of our membership plans
and become a premium member of the WORLD TRAVELER CLUB.
Follow and subscribe to
World Traveler Club on Facebook
to remain up to date with our other deals, and
share share share!