Thanks to our Deals Scanner, we have found some cheap flights to South Korea from Hungary at the best price! Tickets to Seoul cost from €538 round-trip.
South Korea, one of the four Asian Tigers, is not only among the most productive and profitable countries in Asia but also in the whole world. Rich with unique sights and landmarks, South Korea is among the 25 most visited countries in the world. In 2018 alone South Korea received about 17 million tourists. South Korea's landscape is vast and varied. Rugged mountains, pristine beaches, volcanic islands, ancient temples and bustling cities surrounded by farmland. South Korea is an exotic land with thousands of years of history.
Travel dates: November – December 2023
Early booking with Lufthansa or LOT!
Route: Budapest – Seoul – Budapest
Sample ticket: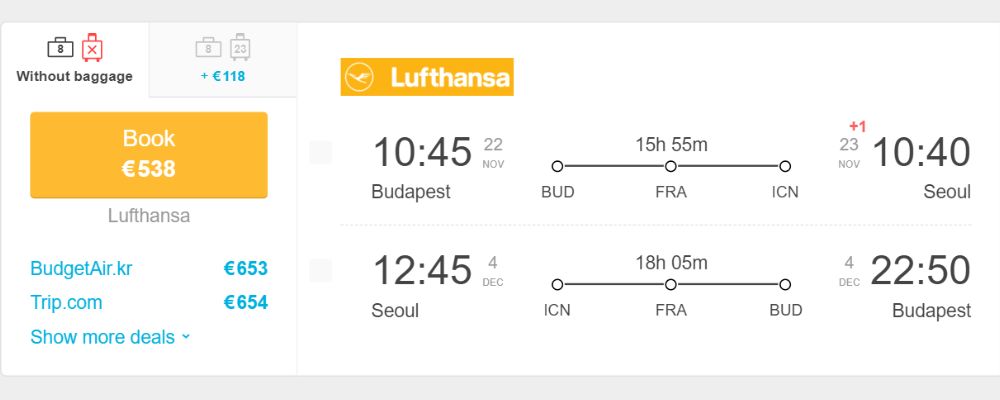 DIRECT FLIGHTS WITH LOT STARTING FROM €607 BOTH WAYS!
Sample ticket:
Please note, all the information on this page is accurate at the time of publication. If you view this deal at a later date, prices and deals may have changed.
ACT FAST AND TAKE ADVANTAGE of deals before they're gone! Remember, the best deals will often disappear within minutes!
All deals are limited and may not be available on all dates.
Note:
COVID is still ongoing around the world. Please consult with health authorities on guidance and restrictions regarding travel, including COVID-19 testing, proof of vaccination, and possible quarantine requirements. Here you can find the
current entry requirements for most countries.
Follow and subscribe to
World Traveler Club on Facebook
to remain up to date with our other deals, and
share share share!
Subscribe to our NEWSLETTER
to get more deals like this direct to your inbox!