Etihad Airways, one of the United Arab Emirates' flagship airlines, takes pride in offering one of the most opulent and sophisticated travel experiences in the world, particularly through its exceptional business class offering. Renowned for its unparalleled amenities and impeccable service,
Etihad recently introduced a new A350 route between Abu Dhabi and New York City and Chicago, featuring state-of-the-art business class cabins. Additionally, the airline operates a 787 Dreamliner service between Washington, D.C., and New York, providing travelers with a seamless and luxurious journey.
Highlights of Etihad Airways business class, detailing its exclusive perks, best routes, in-air experience, meals, and more.
What Sets Etihad Airways Business Class Apart:
Etihad Airways' business class is celebrated for its commitment to excellence, catering to the most discerning travelers. Passengers are treated to an array of exclusive benefits, including access to premium lounges, fully-flat beds, luxury amenities, personalized dining experiences, and top-notch service. The introduction of A350 business class cabins ensures that travelers on select routes between Abu Dhabi and the U.S. experience modern furnishings and a contemporary ambiance.
Best Routes for Etihad Airways Business Class:
For the most lavish experience, passengers can opt for the A350 flights, which offer a slightly more luxurious journey. These routes connect Abu Dhabi to New York City and Chicago, granting travelers access to the most sophisticated business class experience.
Deals and Destinations:
Etihad frequently presents enticing deals for business class travel, allowing passengers to indulge in luxury at a more accessible price. Examples include roundtrip economy fares to the Maldives for $712 and business class fares to Oman for $2,843, Abu Dhabi for $2,957, and Muscat for $2,500.
Etihad Airways Business Class Experience at the Airport:
A hallmark of Etihad's business class experience is the chauffeur service, providing seamless transportation to and from the airport in Abu Dhabi.
The Etihad Business Class lounge offers a warm welcome with Arabic coffee and dates, and showcases a variety of amenities. Guests can relish a diverse dining area with a buffet featuring hot and cold options, a stylish full bar reminiscent of an upscale hotel, premium cigars for purchase, a business center, two lounging areas, a fitness center, and a relaxation zone with recliners.
The lounge boasts nine shower rooms, catering to passengers' comfort and convenience, and offers complimentary WiFi. Although it lacks a dedicated, completely dark nap room, the Six Senses Spa allows guests to indulge in rejuvenating 15-minute treatments such as facials, foot detox, scalp massages, and more.
In the U.S., Etihad provides business class passengers entry into partner lounges, including the Swissport lounge at Chicago O'Hare and the Virgin Atlantic Clubhouse at Dulles International Airport and JFK International Airport.
Stopover in Abu Dhabi
Whether you're staying for a few hours or a few nights, you can pick from a choice of packages to stopover in Abu Dhabi between flights. From exclusive discounts to free nights, what better reason do you need to explore the city we call home?  Read more about the free Etihad Stopover program.
Check-in and Baggage Allowance:
Business class customers enjoy priority check-in at airports outside the UAE, with Abu Dhabi offering a dedicated check-in counter. The baggage allowance is generous, allowing two checked bags up to 32kg each, along with a 12kg cabin bag and a personal item.
Etihad Airways Business Class Experience in the Air:
Etihad's A350 business class seats epitomize elegance and reflect desert-inspired aesthetics. The cabin features cream, sand, and gold hues, complemented by faux marble finishes and wood-grain tables and accents. All 44 business class seats are forward-facing in a 1-2-1 configuration, providing every passenger with direct aisle access and tall sliding doors for enhanced privacy.
Window seats offer unobstructed views, and the plush leather seats, 20-inches wide, transform into fully-flat beds for maximum comfort. Each seat boasts three storage areas, a full outlet accommodating EU, UK, and US devices, and a USB-C port. Entertainment options are abundant, with an 18.5-inch screen and noise-canceling headphones provided. Additionally, Bluetooth connectivity, a signature lamp, an 18-inch tray table, tile-patterned pillows, wireless charging pads, 100+ entertainment choices, and 350MB of complimentary WiFi contribute to an elevated inflight experience.
Etihad's 787 business class also delivers unparalleled comfort, featuring 28 seats designed with privacy shells, conversion into fully-flat beds, and 15-inch screens. The seats are laid out in a 1-2-1 configuration, granting direct aisle access to most passengers. While the color scheme remains neutral, the cabins offer plenty of storage, including one large compartment next to the seat and overhead storage.
Amenities, such as a full-size pillow, blanket, duvet, and noise-canceling headphones, are provided, along with a luxury amenity kit containing an eye mask, socks, earplugs, and Acqua di Parma lotion and fragrance, all presented in a leather Acqua di Parma bag. Although pajamas and slippers are not distributed as in some other airlines' business class, the overall experience remains unmatched in sophistication.
Meals and In-flight Alcohol:
Etihad's business class passengers are welcomed with a refreshing drink, Arabic coffee, dates, and a warm towel. The dining experience surpasses expectations, with long-haul flights offering two delectable three-course meals featuring Arabic mezze, salads, main dish choices, and desserts. Additionally, snacks and beverages are available throughout the flight, served on porcelain dishware with real glassware and cutlery.
The airline's alcohol selection is exemplary, offering a delightful assortment of champagne, white and red wines, rose, and dessert wines predominantly from France and Italy. Aperitifs such as Martini Bianco and Campari, a selection of cocktails, mocktails, several beers, port, cognac, Grand Marnier, and Amarula Cream, along with an array of spirits including Hendricks Gin, Bacardi Rum, Jack Daniel's, Glenlivet Master Distillers Reserve Single Malt, and more, ensure passengers enjoy the finest libations at 30,000 feet.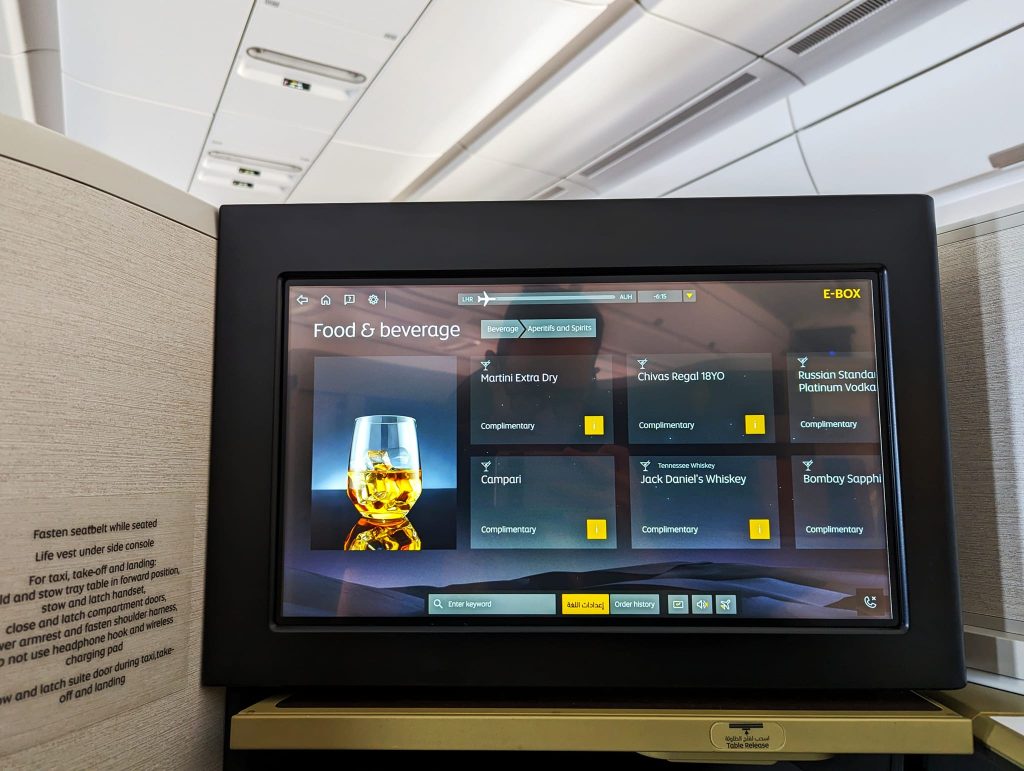 Etihad Airways Business Class vs. First Class:
While both business and first class on Etihad deliver an exceptional travel experience, first class provides additional space, privacy, and attentive service. In addition to fully-flat beds, first class seats include ottomans and privacy walls, creating a luxurious suite-like atmosphere.
The menu options in first class are more customizable, and passengers receive more frequent small treats. Exclusive access to the first class lounge and priority check-in further enhances the first class experience. However, business class still offers spacious and private seats, a superior dining experience compared to economy, and high-end amenities, making it a remarkable choice for discerning travelers.
Summary:
Etihad Airways business class offers an unrivaled and luxurious travel experience from check-in to landing. Passengers can expect premium service, private and spacious seats with fully-flat beds, an extensive selection of entertainment options, and delectable meals served on real dishware.
The airline's generous baggage allowance and exclusive amenities, including chauffeur service and lounge access, elevate the journey to new heights.
For those seeking an elevated travel experience without the exorbitant price of first class, Etihad's business class is an excellent choice, delivering the epitome of luxury travel in the skies. Whether flying on the A350 or the 787, passengers can rest assured that Etihad Airways will redefine their expectations of travel with its extraordinary business class offerings.
Find here the latest Business Class Deals
Subscribe to our NEWSLETTER
to get more deals like this direct to your inbox!
Click here to book:

Hotels
Flights
Airport Tansfers
Car Rentals
Vacation Rentals
Tours & Activities
Please note, all the information on this page is accurate at the time of publication. If you view this deal at a later date, prices and deals may have changed.
ACT FAST AND TAKE ADVANTAGE of deals before they're gone! Remember, the best deals will often disappear within minutes!
All deals are limited and may not be available on all dates.
If you have a question or you need an individual travel deal, please use our
travel forum
.
You want more deals like this?
As a World Traveler Club Gold or Platinum Member you have access to our
PREMIUM CLUB
and our "Deal Scanners" with over 700 amazing travel deals from over 200 travel sites, portals, blogs, and databases.

Sign up for one of our membership plans
and become a premium member of the WORLD TRAVELER CLUB.
Follow and subscribe to
World Traveler Club on Facebook
to remain up to date with our other deals, and
share share share!