British Airways Business Class, also known as Club World, offers a luxurious and unparalleled travel experience for those seeking comfort, privacy, and top-notch service. Step into a world where your favorite armchair, bed, dining table, and office converge into one seamless journey. From dedicated check-in and private lounges to sumptuous cuisine and top-of-the-line in-flight entertainment, Club World promises to make your travel unforgettable. In this article, we'll delve into the highlights of British Airways Business Class, including the Club World seat, the exclusive Club Suite, delectable global cuisine, lounge access, priority services, generous baggage allowances, and more.
The Club World Seat: The Club World seat is designed with your comfort in mind. Enjoy a spacious seat that can transform into a fully flat bed, measuring 183cm (6ft), ensuring you get the rest you need on long-haul flights. The seat comes equipped with fully adjustable headrest and lumbar support, providing personalized comfort throughout your journey. Immerse yourself in the latest in-flight entertainment with the 12″ flat screen and noise-cancelling headphones. The stylish bedding and amenity kits, designed by The White Company, add an extra touch of luxury.
Introducing the Club Suite (on selected flights): British Airways recently unveiled the Club Suite, a revolutionary redesign of its business class seating. This exclusive offering is available on selected flights and provides passengers with their own private space to sit, sleep, work, or relax. Every seat in the Club Suite offers direct aisle access, complete with a door for enhanced privacy. The larger 198cm (6ft 6in) fully flat bed and ample storage space elevate your comfort to new heights. Immerse yourself in entertainment with the 17″ high-resolution screens showcasing the latest films and music. With digital seat functions, you can easily find the most comfortable seating position for a truly bespoke experience.
Delightful Global Cuisine: Indulge in a culinary journey with Club World's delectable global cuisine. Customize your main course, served with a starter, dessert, and cheese. Experience the signature afternoon tea on select routes, adding a touch of British tradition to your flight. Throughout your journey, enjoy a selection of snacks and a wide range of hot and cold drinks, wines, and spirits.
Exclusive Lounge Access: Relax and unwind in elegant and exclusive departure lounges before take-off. These stylish and spacious lounges offer quality wines, drinks, and food, along with business facilities to cater to your work needs. Upon arrival at London Heathrow, freshen up at the Arrivals lounge in Terminal 5 or access the lounge from Terminal 3 using the free interterminal transfer train.
Priority Check-In and Boarding: Booking Club World ensures a smooth and efficient airport experience with dedicated check-in desks and fast-track security at London Heathrow, London Gatwick, and New York JFK. Benefit from your own dedicated Club World check-in desk at most airports and enjoy priority boarding.
Generous Baggage Allowance and Assistance: Club World provides a generous baggage allowance, allowing you to bring a cabin bag and a laptop or handbag on board. Additionally, you can pack up to two bags in the hold, with the option to add more if needed. For added convenience, AirPortr offers a doorstep pick-up and check-in service for flights departing from specific airports.
Bedding and Amenity Kits: Relax and enjoy a comfortable flight with quality bedding and amenity kits specially designed by The White Company. Sink into a peaceful sleep with the soft mattress topper, luxury duvet, and blanket, offering an extra cozy layer of comfort.
In-Flight Entertainment: Stay entertained throughout your journey with British Airways' extensive in-flight entertainment options. Enjoy a vast library of new releases, including movies, music, ebooks, and games, all available on every seat's flat screen. Stay connected with personal charging points and access high-speed Wi-Fi on most aircraft.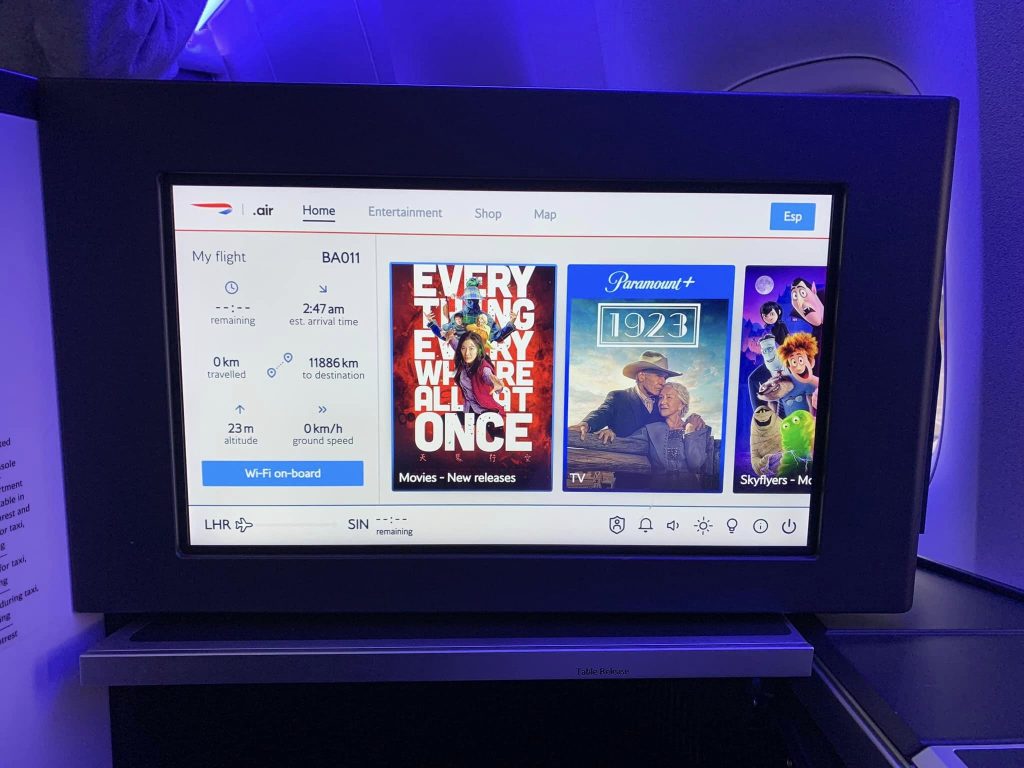 Maximize Sleep with Club World Sleeper Service: For select flights from North America and the Middle East, Club World offers the Sleeper Service, ensuring maximum rest during your journey. Passengers are welcomed on board with a nightcap before dimmed lights allow for an undisturbed rest in the fully flat bed. A quick breakfast is served before landing, giving you ample time to freshen up for the day ahead.
Conclusion: British Airways Business Class, Club World, sets the standard for an unrivaled travel experience. Whether you choose the Club World seat or indulge in the exclusive Club Suite, you're guaranteed comfort, luxury, and impeccable service throughout your journey. Enjoy priority services, generous baggage allowances, and top-notch in-flight entertainment, making your flight a true pleasure from take-off to landing. Embark on an unforgettable journey with British Airways Business Class and elevate your travel experience to new heights of luxury and indulgence.
You can find here some BUSINESS CLASS deals with British Airways.
Click here to book:

Hotels
Flights
Airport Tansfers
Car Rentals
Vacation Rentals
Tours & Activities
Please note, all the information on this page is accurate at the time of publication. If you view this deal at a later date, prices and deals may have changed.
ACT FAST AND TAKE ADVANTAGE of deals before they're gone! Remember, the best deals will often disappear within minutes!
All deals are limited and may not be available on all dates.
If you have a question or you need an individual travel deal, please use our
travel forum
.
You want more deals like this?
As a World Traveler Club Gold or Platinum Member you have access to our
PREMIUM CLUB
and our "Deal Scanners" with over 700 amazing travel deals from over 200 travel sites, portals, blogs, and databases.

Sign up for one of our membership plans
and become a premium member of the WORLD TRAVELER CLUB.
Follow and subscribe to
World Traveler Club on Facebook
to remain up to date with our other deals, and
share share share!