American Airlines offers both Business Class and First Class options for its passengers. Let me break down the features of each class for you:
1. Business Class:
– Comfortable seating: Enjoy spacious seats with extra legroom, adjustable headrests, and ample recline.
– In-flight entertainment: Stay entertained throughout your journey with a personal seatback screen featuring a wide range of movies, TV shows, music, and games.
– Enhanced dining experience: Indulge in delicious meals prepared by renowned chefs with complimentary beverages, including alcoholic options.
– Priority services: Benefit from priority check-in, security screening, and boarding to save time at the airport.
– Lounge access: Relax or catch up on work before your flight in American Airlines' premium lounges.
2. First Class:
– Exclusive seating: Experience ultimate comfort in fully lie-flat seats that offer maximum privacy and luxury.
– Personalized service: Enjoy dedicated flight attendants catering to your every need throughout the journey.
– Premium amenities: Stay refreshed with luxurious bedding, amenity kits stocked with high-quality products, and noise-canceling headphones.
– Gourmet dining options: Delight in chef-inspired menus paired with top-notch wines and spirits served on fine china.
– Additional perks: Access exclusive Flagship Lounges where available and enjoy expedited check-in and boarding.
To explore business or first-class flights offered by American Airlines or any other airlines worldwide, feel free to browse our website World Traveler Club.
American Airlines, a prominent player in the aviation industry, offers a premium travel experience through its Business and First Class cabins.
As a founding member of the oneworld alliance, American Airlines extends its reach beyond North America, allowing travelers to enjoy top-notch services, luxurious amenities, and a commitment to sustainability. Whether you're a seasoned flyer or embarking on your first premium journey, American Airlines Business and First Class promise a memorable and comfortable travel experience.
A Luxurious Airport Journey
Your premium experience begins the moment you arrive at the airport. With priority check-in and security lines, you'll breeze through the initial process and find yourself relaxing in the exclusive lounges. The Flagship Lounges, available in major gateway airports, pamper you with a sumptuous array of food and beverage options, setting the tone for the journey ahead. For those in First Class, the elevated experience extends to the Admirals Club, offering a serene and comfortable environment.
Spacious and Thoughtful Cabin Design
Stepping onto an American Airlines widebody aircraft, you'll find yourself immersed in a spacious and elegant cabin. In the Flagship Business cabin, the all-aisle-access seating configuration (1-2-1) ensures that every passenger enjoys convenience without having to disturb fellow travelers. On select aircraft, the reverse-herringbone Safran Cirrus seats offer unparalleled comfort, setting the stage for a restful journey.
The Seats: Comfort and Privacy Combined
Both solo and companion travelers will find the fully flat beds in American Airlines' Business Class cabins a delight. The thoughtful design includes partial privacy dividers, creating a cocoon-like atmosphere for undisturbed relaxation. Window seats offer solo travelers an intimate space, while center pair seats facilitate easy conversation. It's worth noting that some aircraft have alternating forward and backward-facing seats, so be sure to review the seat map before your flight.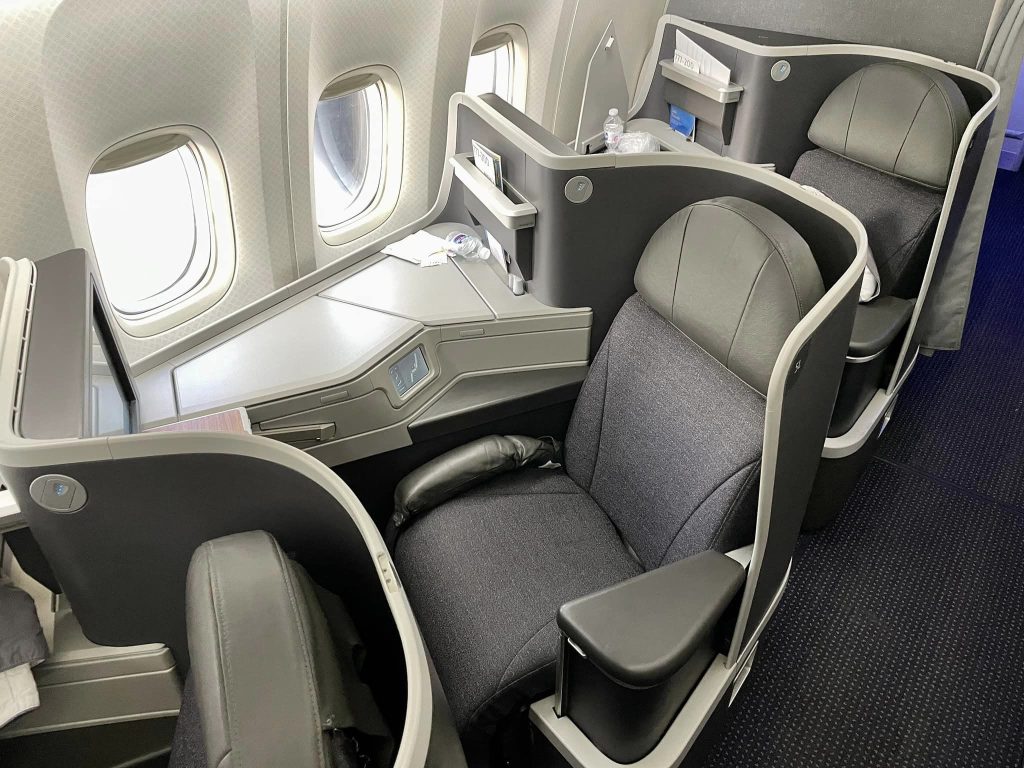 World-Class Cuisine
While American Airlines may not focus on glamour, its culinary offerings shine brightly. The in-flight dining experience is efficient and reliable, with attentive service and delectable options. The carefully curated menus, including chef-created recipes and regional dishes, cater to diverse palates. Passengers can even pre-order their preferred meals, ensuring a personalized gastronomic experience.
Beverage Delights
American Airlines leaves no stone unturned in quenching your thirst. From the moment you step on board, you're greeted with a selection of beverages, setting the tone for a refreshing journey. Printed menus detail an extensive list of wines, spirits, beers, and non-alcoholic options. Whether you're sipping a glass of sparkling wine or enjoying a local brew, the airline's commitment to variety ensures a delightful inflight experience.
Entertainment at Your Fingertips
Entertainment is paramount during long flights, and American Airlines doesn't disappoint. High-quality Bang & Olufsen noise-cancelling headphones immerse you in a world of audiovisual entertainment. The touch-screen entertainment system offers an extensive selection of movies, TV shows, music, podcasts, and even an educational channel for younger travelers. Upgraded Wi-Fi lets you stay connected, and the 3-D moving map display keeps you engaged throughout the journey.
Thoughtful Amenities and Sustainability
American Airlines goes the extra mile to ensure your comfort with amenity kits that include essentials like socks, eye shades, dental kits, and more. On longer flights, passengers are treated to Casper pajamas, slippers, and even a mattress pad. The airline's commitment to sustainability is commendable, with a focus on reducing carbon emissions and embracing environmentally friendly practices.
---
Embarking on an American Airlines Business or First Class journey is more than just a flight; it's a comprehensive experience designed to elevate your travel. From the moment you enter the airport to the final touch-down, you'll be enveloped in comfort, luxury, and attentive service. The carefully crafted amenities, delectable cuisine, and commitment to sustainability showcase American Airlines' dedication to delivering a memorable and responsible flying experience. Whether you're a frequent traveler or embarking on a special trip, American Airlines Business and First Class promise to make your journey truly exceptional.
For more information on American Airlines' aircraft and cabin features, visit their official website: American Airlines.
Click here to book:

Hotels
Flights
Airport Tansfers
Car Rentals
Vacation Rentals
Tours & Activities
Please note, all the information on this page is accurate at the time of publication. If you view this deal at a later date, prices and deals may have changed.
ACT FAST AND TAKE ADVANTAGE of deals before they're gone! Remember, the best deals will often disappear within minutes!
All deals are limited and may not be available on all dates.
If you have a question or you need an individual travel deal, please use our
travel forum
.
You want more deals like this?
As a World Traveler Club Gold or Platinum Member you have access to our
PREMIUM CLUB
and our "Deal Scanners" with over 700 amazing travel deals from over 200 travel sites, portals, blogs, and databases.

Sign up for one of our membership plans
and become a premium member of the WORLD TRAVELER CLUB.
Follow and subscribe to
World Traveler Club on Facebook
to remain up to date with our other deals, and
share share share!