When it comes to luxury air travel, Qatar Airways stands tall as a shining beacon of excellence. Renowned for its world-class service and exceptional offerings, this airline leaves no stone unturned in ensuring an unforgettable journey for its passengers. Whether you are traveling in First Class or Business Class, Qatar Airways is committed to delivering an experience that exceeds all expectations.
First Class: Tailored Exclusively for You
Qatar Airways' First Class experience is a testament to opulence and sophistication. From the moment you step on board, you are immersed in a world of exclusive offerings handpicked to make your journey truly extraordinary.
Award-Winning Service: Qatar Airways' cabin crew, renowned for their professionalism and warmth, take pride in providing personalized care and attention to each passenger. Your every need is catered to with utmost precision and warmth.
Pampering from Start to Finish: Qatar Airways spares no expense in pampering its First Class passengers. From signature dishes prepared by world-class chefs to Diptyque's luxurious amenity kits and designer lounge wear by The White Company, every aspect of your journey exudes luxury.
Gourmet Dining: Indulge in a gastronomic delight with a carefully crafted menu offering sumptuous cuisine and expertly served exclusive vintages. An on-demand à la carte menu ensures that you can savor mouth-watering dishes whenever you desire.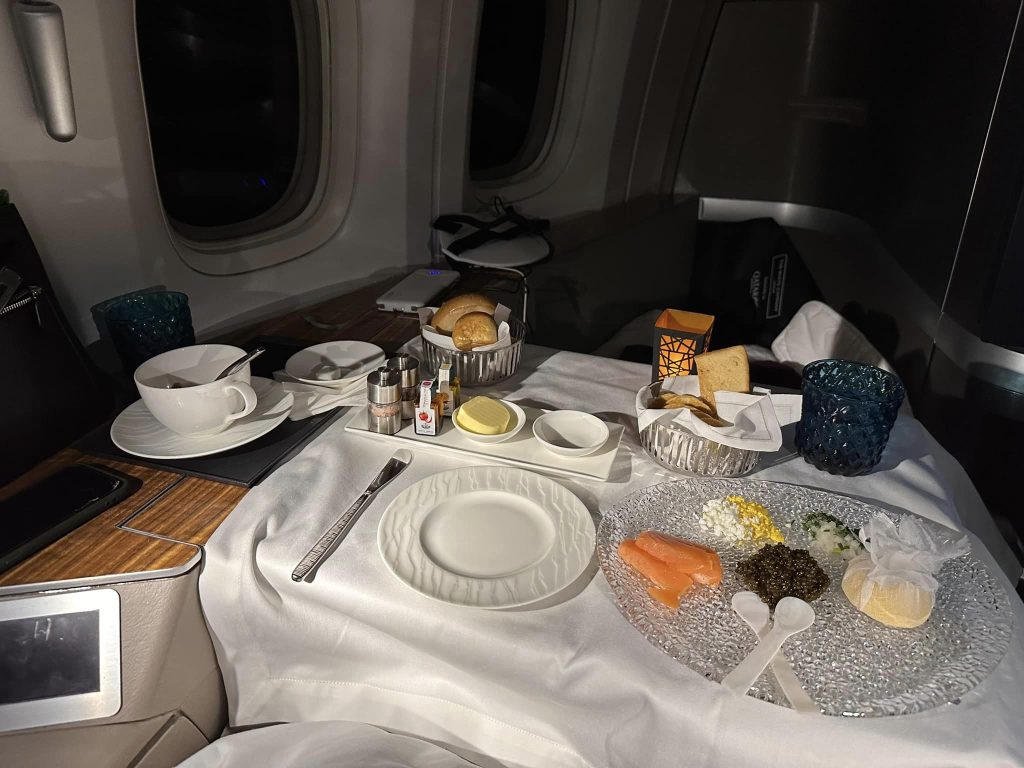 Work and Relax in Style: Qatar Airways' First Class cabin is designed with your needs in mind. Whether you need to catch up on work or simply unwind, the cabin provides a comfortable workspace with laptop power, USB plugs, and on-board Wi-Fi. And when it's time to relax, the innovative entertainment system boasts up to 4,000 options to keep you entertained throughout the flight.
Business Class: Elevating Comfort and Service
For those seeking a blend of comfort and efficiency, Qatar Airways' Business Class is the epitome of refinement and attention to detail.
Elegantly Designed Interiors: Step into an oasis of serenity with elegantly designed and spacious Business Class interiors. Advanced ambient lighting ensures a calm and restful atmosphere, helping you adjust to the time zone of your destination for a refreshed arrival.
Stay Connected on the Go: Whether you are flying for business or pleasure, Qatar Airways' Business Class keeps you connected with on-board Wi-Fi service. Stay on top of your work or connect with loved ones even at 30,000 feet.
Gourmet Dining Experience: Savor a culinary journey like no other with Qatar Airways' on-demand à la carte menu. Delectable dishes are prepared to perfection, and with spacious dining areas at each seat, you can enjoy your meals in utmost comfort.
Entertainment at Your Fingertips: Business Class passengers can revel in the cinematic experience offered by Oryx One. This cutting-edge entertainment system features an intuitive touch screen and dual-screen interface on A350, A380, and B787 aircraft, allowing you to multitask while enjoying a wide selection of movies and shows.
Qatar Airways' Top Aircraft Models: A380, A350, B787, B777, A330, and A320
Qatar Airways commitment to excellence is evident not only in its service but also in its choice of aircraft.
In addition to the widely acclaimed A380, A350, and B787 aircraft, Qatar Airways' fleet also includes the popular B777, A330, and A320 models, each offering its unique features and benefits.
Some of the most popular and well-loved aircraft models in their fleet include:

Airbus A380: This iconic double-deck aircraft boasts an exceptional level of comfort and luxury. With spacious cabins and advanced amenities, the A380 provides an unmatched flying experience.
Airbus A350: Known for its innovative design and fuel efficiency, the A350 offers a quiet and comfortable journey. Its advanced technology contributes to reduced jet lag and ensures a smoother flight.
Boeing B787 Dreamliner: The B787 is celebrated for its state-of-the-art features and passenger-friendly design. With larger windows, improved air quality, and reduced turbulence, this aircraft promises a more pleasant flying experience.
Boeing B777: The Boeing B777 is one of the most iconic aircraft in aviation history. Qatar Airways operates several variants of the B777, including the B777-200LR, B777-300ER, and B777-9X. The B777 boasts a comfortable cabin, advanced in-flight entertainment systems, and spacious seating, ensuring a pleasant travel experience for passengers.
Airbus A330: The Airbus A330 is a versatile workhorse of Qatar Airways' fleet. Known for its fuel efficiency and reliability, the A330 operates on both short-haul and long-haul routes. Passengers can enjoy a comfortable journey with state-of-the-art amenities and entertainment options.
Airbus A320: As a part of the narrow-body fleet, the Airbus A320 offers a smooth and efficient travel experience for regional and short-haul flights. With its modern design and comfortable seating, the A320 ensures a pleasant journey for travelers.
Qsuite: A Revolution in Business Class Travel
Qatar Airways takes Business Class to the next level with its innovative Qsuite concept, redefining luxury and privacy for its premium passengers. The Qsuite offers several configurations, each catering to different travel preferences:
Single Qsuite: The Single Qsuite is ideal for solo travelers seeking ultimate privacy and comfort. This configuration features a private cabin with sliding doors, a flatbed, and ample space to work, relax, and indulge in the in-flight entertainment.
Twin Qsuite: The Twin Qsuite is perfect for couples or companions traveling together. Two Qsuites can be connected to create a private double bed, allowing passengers to share the journey in an intimate setting.
Double Qsuite: The Double Qsuite is designed for families or small groups, accommodating up to four passengers. Two interconnected Qsuites create a social space for travelers to enjoy the journey together.
The Quad: The Quad configuration is perfect for larger groups or families traveling together. Four Qsuites can be combined to create a private area, providing a shared experience during the flight.
Qsuite: A World of Unrivaled Luxury
Qatar Airways' Qsuite is truly a class apart in the realm of Business Class travel. Passengers flying on select Airbus A350, Boeing B777-300ER, and Boeing B777-200LR aircraft can experience the Qsuite's exceptional features:
Revolutionary Privacy: Qsuite's sliding doors and dividers provide an unprecedented level of privacy, ensuring an undisturbed journey.
Versatile Seating: The Qsuite seats can be transformed into a fully flatbed at the touch of a button, allowing for a restful sleep during long-haul flights.
Customizable Spaces: The Qsuite allows passengers to configure their seating area to suit their needs, whether for work, relaxation, or socializing.
Exquisite Dining: Enjoy world-class dining with on-demand à la carte menus and an extensive selection of delectable dishes.
Cutting-Edge Entertainment: Stay entertained throughout the flight with the Oryx One entertainment system, featuring thousands of entertainment options.
Qatar Airways promises a journey like no other, whether you choose to travel in the opulent First Class or the refined Business Class. From award-winning service and delectable dining to staying connected in the sky and enjoying a vast selection of entertainment, Qatar Airways takes pride in making your air travel a truly unforgettable experience. Embrace the luxury and elegance of Qatar Airways and prepare for a journey that will leave you with cherished memories for a lifetime.
Qatar Airways' commitment to excellence extends to its entire fleet, from the luxurious A380, A350, and B787 to the versatile B777, A330, and A320 models. With the revolutionary Qsuite in Business Class, Qatar Airways continues to set the standard for premium air travel, offering unrivaled luxury, comfort, and privacy to its esteemed passengers. Whether you're flying for business or leisure, Qatar Airways promises an exceptional journey that will leave you with cherished memories and a desire to fly with them again and again.
For more detailed information, you can visit Qatar Airways' official website at www.qatarairways.com.

Find here the latest Business Class & First Class deals!
Click here to book:

Hotels
Flights
Airport Tansfers
Car Rentals
Vacation Rentals
Tours & Activities