Traveler! Thanks to our Deal Scanner we have found some cheap direct flights from Lithuania to Dubrovnik (Croatia) from €159 round-trip by airBaltic.
Find the cheapest flights from Vilnius to Dubrovnik and book your tickets at the best price.
Tickets to Croatia will cost from 159 EUR both ways.
Croatia, officially the Republic of Croatia (Croatian: Republika Hrvatska, About this sound listen (help·info)), is a country at the crossroads of Central and Southeast Europe, on the Adriatic Sea. Its capital, Zagreb, forms one of the country's primary subdivisions, along with twenty counties. Croatia has an area of 56,594 square kilometres (21,851 square miles) and a population of 4.28 million, most of whom are Roman Catholics.
Travel dates: May – October 2023
Route: Vilnius – Dubrovnik – Vilnius
Sample: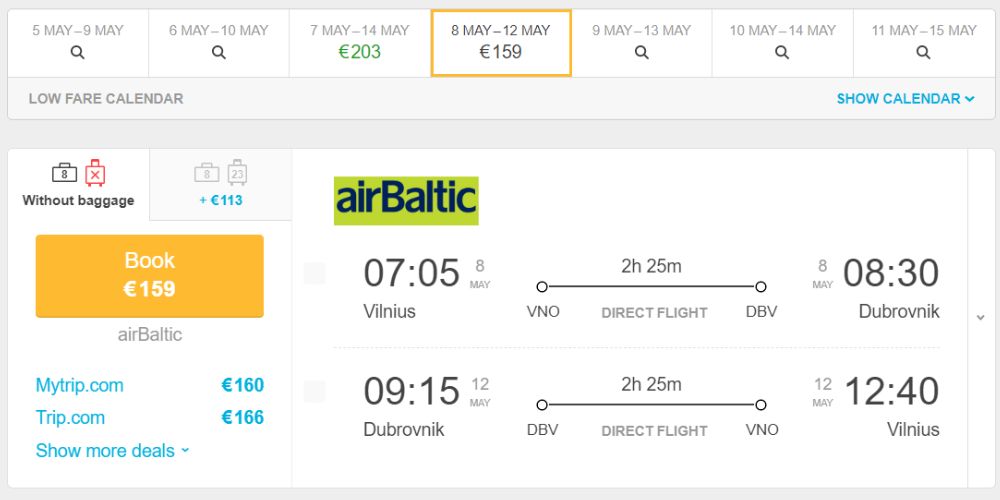 Book your Flight to Croatia here!
How to book?
To get this deal you can use the
flight search box
above. Just enter the travel dates, origin, and destination as seen in the deal description and select the cabin class.
Of course, you can adjust your origin and destination as well as your desired dates of travel (though prices and availabilities may change).
You can also book the flights at:
JetRadar
,
CheapOair
,
Trip Flights
,
Swiss
,
CheapTickets
,
Travel-Dealer
,
Kayak
,
Opodo
,
Travel Overland
or
Kiwi
. We always recommend booking directly with the airline.
Please note, all the information on this page is accurate at the time of publication. If you view this deal at a later date, prices and deals may have changed.
ACT FAST AND TAKE ADVANTAGE of deals before they're gone! Remember, the best deals will often disappear within minutes!
All deals are limited and may not be available on all dates.
Note:
COVID is still ongoing around the world. Please consult with health authorities on guidance and restrictions regarding travel, including COVID-19 testing, proof of vaccination, and possible quarantine requirements. Here you can find the
current entry requirements for most countries.
Follow and subscribe to
World Traveler Club on Facebook
to remain up to date with our other deals, and
share share share!