Flying in business class for the first time can be a truly exciting experience. In this article we will share with you the top 10 perks you can expect when you are flying in business class for the very first time, from start to finish. These can somewhat vary between airlines, but should generally be present. Already from the time you get to the airport you can experience a different level of service than you might be used to. From priority check-in to access to airport lounges, the business class flight begins at the moment you arrive at the airport. When boarding starts, you most of the time do not need to wait long in a line, but can enjoy the priority boarding placement. One of the biggest perks of flying in business class is as you might already know, the seats. Most of them are typically larger and more comfortable than in economy class, and some can even lay all the way down like a bed – who wouldn't want that when embarking on a 14h flight?  If this sounds good to you, let us give you all the details on flying business class for the first time.
1. Priority check-in
Many airports offer Fast-Track for business class passengers. This makes the security check much smoother, as you do not have to stand in line and wait for everyone else to finish the security check-in. This can save you a lot of time and hassle, time that you instead could for example spend waiting for the flight in the lounge, having a snack and a glass of wine. Many airports also offer priority baggage check-in. This means that they will put a special tag on your suitcase which states that it is a Priority bag, and it should be among the first to be delivered in the baggage claim area at your destination. Then you would not have to wait very long after arriving at your destination either.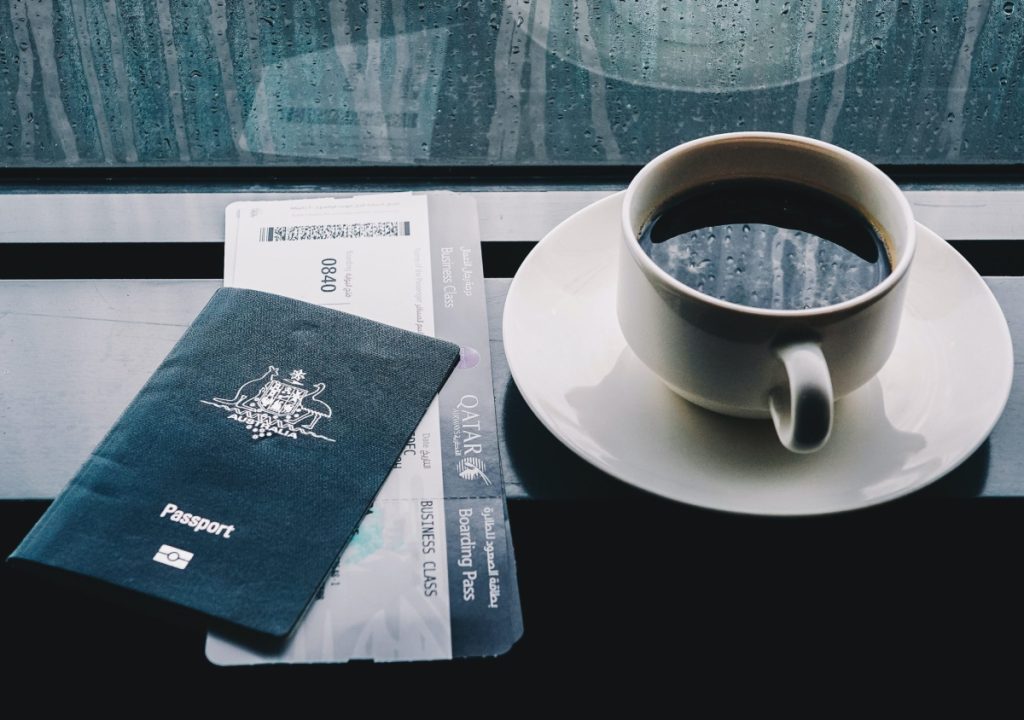 2. Lounge access
With a business class ticket, most airlines offer lounge access, where you can relax and have some snacks, a meal and a drink before your flight. Usually you will be able to get food and drinks for free. In most business class lounges you can stay between 2-3 hours before your flight, and some offer extended stays for up to 5 hours. Most of the time you will get access to benefits such as complimentary Wi-Fi and quiet areas. The level of luxury can differ between lounges, with some, such as the Emirates lounge in Dubai, offering a gourmet dining experience and direct boarding included in the business class ticket. We all know how overpriced even mediocre food in many airports can be, so why not get something worthwhile before heading out on a long flight?
3. Larger seats
Business class seats are usually different from the seats in economy class; they are bigger, wider and have more legroom. The level of privacy and seat-function can vary between airlines. Some, such as Lufthansa and Quantas offer fully reclinable seats, where you can lay down and sleep just like you would in a bed.
4. Better food and drinks
When heading out on a trip, no matter if it is for a holiday or work-related, it is essential to find some nice way to replenish your energy before going out on your adventure. You might already be heading into some days of jetlag, and the last thing you want is to feel extra off because of something you ate. Most airlines offer a great selection of food and drinks to business class passengers, ensuring that you will be able to select something you like. The quality and variety can to some extent vary between airlines. Turkish Airlines, Oman Air, Qatar Airways and Emirates are some of the airlines who are described as offering some of the best dining experiences of all the airlines.
5. In-flight entertainment
When you are flying in business class, better in-flight entertainment is included. One of the best perks when you are on a long flight is the free Wi-Fi, which makes it possible for you to use your phone and computer like you normally would. You can for example make the time fly by scrolling through TikTok or what you normally would do. Most of the time, you will have a TV-screen where you get a selection of movies to watch. What better way to catch up on all the movies you did not have time to see, than watching them on your way to your holiday?
6. More privacy
Another big advantage of flying in business class is that you get way more privacy than you would sitting in economy class. Business class cabins are normally separated from the economy class, which means you can enjoy a more private and peaceful environment. The seats often come with walls around them, giving you a little room of your own where you can enjoy your peace without anyone else looking in on you.
7. Access to power outlets
Having access to a power outlet is truly an essential part when going on a long flight. One thing that for sure helps the time on the flight go faster is using your phone or computer or whichever electronics you prefer, watching movies, listening to music or playing games. And when you land, it can also be beneficial to have a working phone with battery, as you most likely have somewhere to go after arriving at the airport. In business class you can be sure that you will have access to a power outlet where you can charge what it is you need to charge.
8. Priority boarding
When flying in business class, another awesome perk is the priority boarding. Business class passengers can normally go in the plane before economy flight passengers, saving you some time and you don't need to wait around in line for very long.
9. Amenity kits
Another cool perk is the amenity kits you get when flying business class. The airlines usually offer complimentary amenity kits, which most of the time contain a toothbrush and toothpaste, socks and other useful items. They also might contain different kinds of creams from high-quality brands. These kits vary between airlines and also their contents, but in general they should include some useful items for you and your flight. That way you do not need to bring those items in your purse, because they will be provided for you.
10. Extra baggage allowance
When going on a long trip, you might have a lot of luggage you would like to bring. Most airlines usually have a higher baggage allowance for business class passengers than for economy class passengers, meaning you can bring even more luggage on your trip. In case you have a lot of things you want to bring, you do not need to worry about paying extra for the weight, because the amount of extra kilos baggage you can bring is in most airlines quite a bit more than 23 kg. When you fly business class with Emirates, for example, the limit for business class passenger's luggage is 40 kg. Paying the overweight at the airport can get expensive fast, especially for international flights, so why not make sure you already have it covered by going with business class?
11. More points or miles
One of the biggest perks of flying business class is the amount of points or miles you can collect. Even just by flying in business class once, you can gain lots of points which you can use for different purposes. You can for example purchase items such as iPads or other cool items. What you can use your points for can differ between airlines or loyalty programs, but some will also let you use your points for car rentals, hotel stays, merchandise, magazine subscriptions or flight upgrades.
Why business class?
If you are someone who is looking for a nice and relaxing time before and during your flight, business class is just the thing for you. With access to all of these amazing perks, from start to end, you can truly turn an exhaustingly long travel into a comfortable and enjoyable experience. You save lots of time and hassle by not having to stand around in lines all day, which means you can truly start your vacation already before stepping foot inside the plane. From entering the airport with shorter check-in lines in the security and getting access to the business class lounges, you can already start to enjoy your holiday. Then, entering the plane, you get priority boarding and can go straight into your super comfortable seat, made to be able to experience ultimate relaxation while flying. You can also enjoy the amazing food and drinks, the amenity kit, the in-flight entertainment and the extra privacy from your seat. You also never have to worry about your electronics not being fully charged, as you should always have access to a power outlet. For the next time you are ordering tickets, you can also spend your well-earned points from flying in business class. 
Business class is expensive – how should I be able to buy a ticket?
Yes, business class tickets are most of the time a lot more pricey than economy class tickets. But, from all the perks you get access to when flying in business class, we would say it is totally worth it if you are looking for a super relaxing trip. And, by signing up as a member of the World Traveler Club, you will get access to the best deals on business class tickets to destinations all over the world. Sign up as a paying Gold or Platinum member and get access to the ultimate business- and first-class deals – and save lots of money on the flights for your next trip!
Check out our guide to finding the best business class deals and our best tips and strategies for how to get a business class upgrade! And don't forget to check out our handpicked deals for business- and first-class flights.
See also the Skytrax World Airline Awards to find out which airlines have the best business class in the world!
About the Author:
Maja Lie is a Norwegian travel lover and digital marketing specialist. She just moved to Germany and is exploring the world while sharing her experiences through words and images. When she's not travelling, she enjoys hiking, trying new foods, and planning her next adventure.