Hey travelers, once in your lifetime you have to see the temples of Angkor in Cambodia!!!
Angkor Wat is a temple complex in Cambodia and the largest religious monument in the world, on a site measuring 162.6 hectares!!  You have to see it!!
Here we have the perfect hotel deal for you!!  An amazing 5* Hotel deal at major tourism destination in Cambodia.
At the moment you can book this special offer by 5* Grand Venus La Residence near Siem Reap in Cambodia. The rates are available from only €30 per night/room for two people in a room! Experience high-class service for a cheap price. Take this great opportunity to stay in a 5* Hotel at a famous destination in Cambodia.
The best rates are available from September 2020 to March 2021.
Probably the most quietly and safety hotel in Siem Reap. Grand Venus La Residence locates in Wat Thmei, Kouk Chak next to Angkor Wat is a wonderful luxurious hotel inspired. The hotel with high-class accommodation and excellent customer provider in the north of Siem Reap City will ensure that you will have the perfect base to explore this ancient city.
Ultimate relaxation, luxurious comfort and stylist contemporary, the brand new luxury Grand Venus La Residence offers a modern retreat and experience of Khmer hospitality. There are 25 luxurious and specious rooms and suites. All rooms and suites provide private retreat of luxurious space and suitable for couple, friend and family travelers.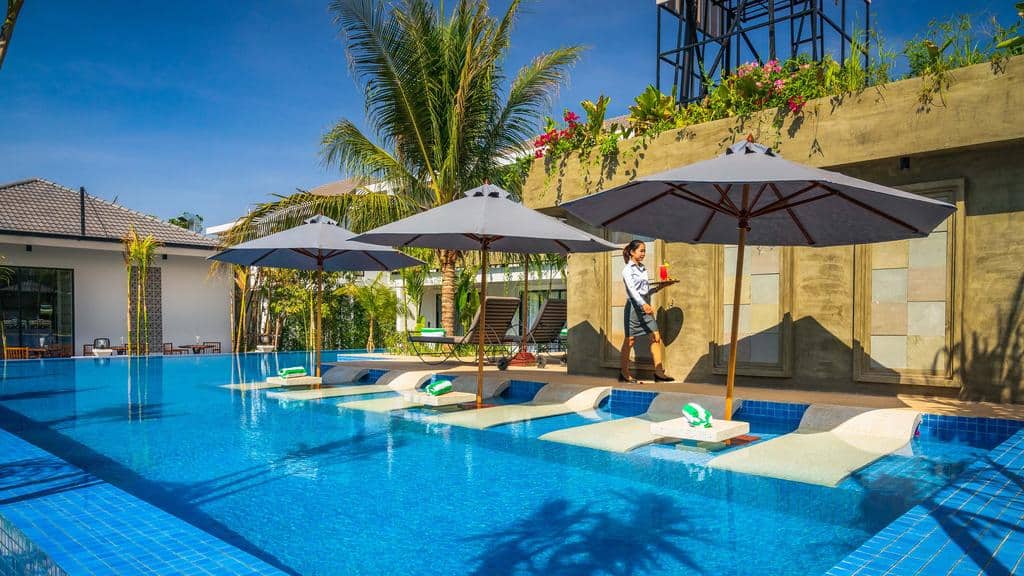 From the moment you arrive in this tasteful hotel you will immediately take note of the wonderful lobby with its vivid floral design pods, a modern decor and subtle lighting makes your stay relaxing and carefree. Make sure to check out pool's bar at Venus Restaurant which has become a firm favorite with many choices that you need.
Book here the Grand Venus La Residence:
Cheap Flights to Siem Reap
| Origin | Departure at | Return at | Find tickets |
| --- | --- | --- | --- |
| Hong Kong | 24 February 2022 | 2 March 2022 | |
| Hanoi | 20 September 2021 | 25 September 2021 | |
| Nha Trang | 26 January 2022 | 29 January 2022 | |
| Bangkok | 24 February 2022 | 2 March 2022 | |
| Kuala Lumpur | 24 February 2022 | 2 March 2022 | |
| Moscow | 3 January 2022 | 9 January 2022 | |
Find your flights here:
Find here more Hotel Deals on Siem Reap:
Please note, all the information on this page are accurate at the time of publication. Viewing this deal at a later date, prices and deals may change due to utilization of the contingent.
Note:
Due to the corona pandemic and the associated restrictions and risks, you should check recent regulations. Here you can find the
current entry requirements for most countries.