There is a trick how to grab BUSINESS CLASS tickets for flights from India to Europe!
This low fare only allows you to be in Europe for less than 24 hours, a very short stay. Idk, if you need to get to Europe on a very short notice, just spend a few hours in Europe, idk… shopping spree or have lunch and then fly out on the same day.
It will work. It will not appeal to many people. Not very flexible.
Note: SAUDIA is a dry airline, no alcohol.
Can fly out from most major Indian airports, like DEL (Best), BOM, COK, MAA, etc…
Can fly to most European cities, Rome, Barcelona, London, Frankfurt, Paris, etc…
It could cost normaly up to USD $3,000 for a round trip DEL-LHR, so USD$1,000 is one-third of the fare.
Ticket can be obtained from Online Travel Agents or you could visit your local travel agent and ask them to reconstruct the fare
Fare 1: 

Carrier SV IE6MIN DEL to RUH

 (

rules

)

Passenger type ADT, round trip fare, booking code I

Covers DEL-RUH (Business)

Fare 2: 

Carrier SV IE6MIN RUH to DEL

 (

rules

)

Passenger type ADT, round trip fare, booking code I

Covers RUH-LHR (Business), LHR-JED (Business), JED-DEL (Business)
Example: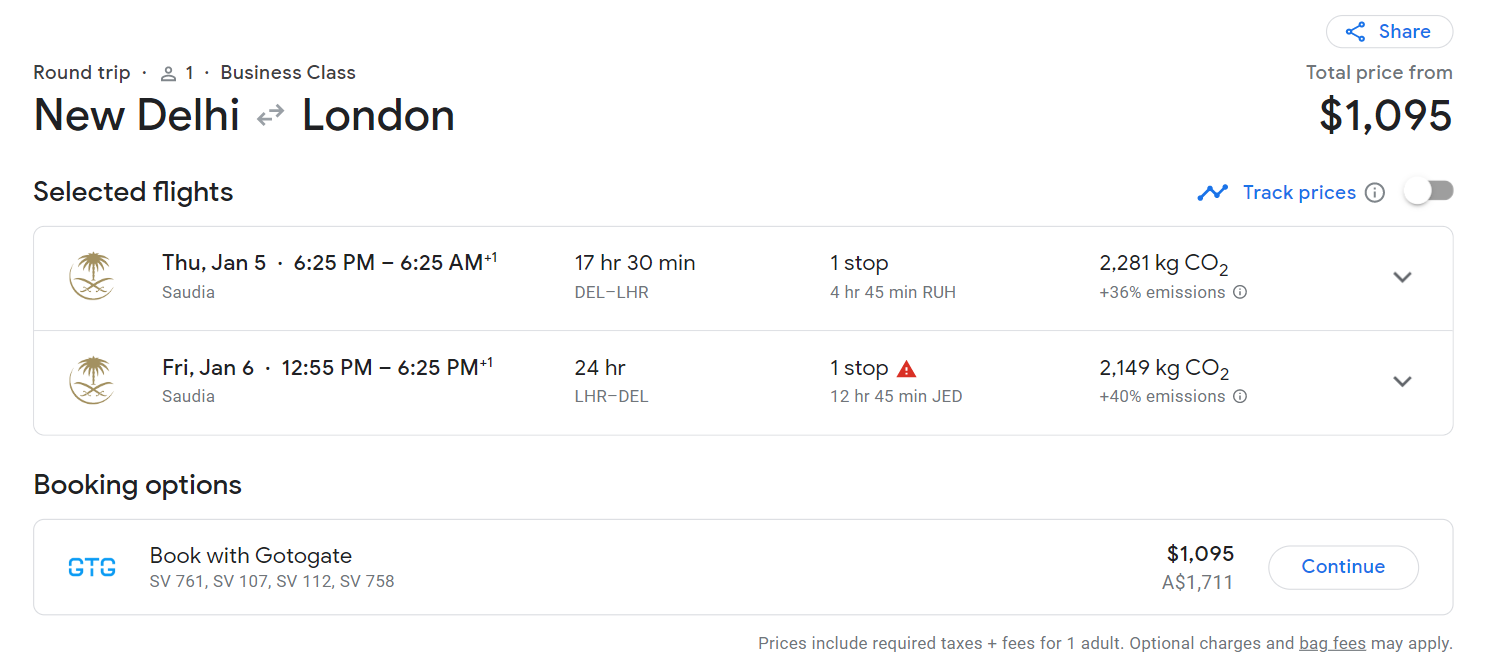 You can book here:
How to book?
To get this deal you can use the
flight search box
above. Just enter the travel dates, origin, and destination as seen in the deal description and select the cabin class.
Of course, you can adjust your origin and destination as well as your desired dates of travel (though prices and availabilities may change).
You can also book the flights at:
JetRadar
,
CheapOair
,
Trip Flights
,
Swiss
,
CheapTickets
,
Travel-Dealer
,
Kayak
,
Opodo
,
Travel Overland
or
Kiwi
. We always recommend booking directly with the airline.
Please note, all the information on this page is accurate at the time of publication. If you view this deal at a later date, prices and deals may have changed.
ACT FAST AND TAKE ADVANTAGE of deals before they're gone! Remember, the best deals will often disappear within minutes!
All deals are limited and may not be available on all dates.
Note:
COVID is still ongoing around the world. Please consult with health authorities on guidance and restrictions regarding travel, including COVID-19 testing, proof of vaccination, and possible quarantine requirements. Here you can find the
current entry requirements for most countries.
Follow and subscribe to
World Traveler Club on Facebook
to remain up to date with our other deals, and
share share share!