FLIGHTS IN BUSINESS CLASS FROM NETHERLANDS TO EQUATORIAL GUINEA!
You can grab cheap Business Class flights from The Netherlands to Equatorial Guinea for just €1,343 (round-trip).
Currently, you can book cheap BUSINESS CLASS flights departing from Amsterdam, Netherlands to Malabo, Equatorial Guinea, for only €1,343 for a round-trip with LUFTHANSA.
It is available for travel between March and April and July and December 2023 for this price.
The minimum stay is 8 days, you can stay a maximum of 12 months.
Alliance: Star Alliance
Don't miss this excellent BUSINESS CLASS offer by LUFTHANSA to Malabo, Equatorial Guinea at meagre prices!
Sample ticket reservations IN BUSINESS CLASS: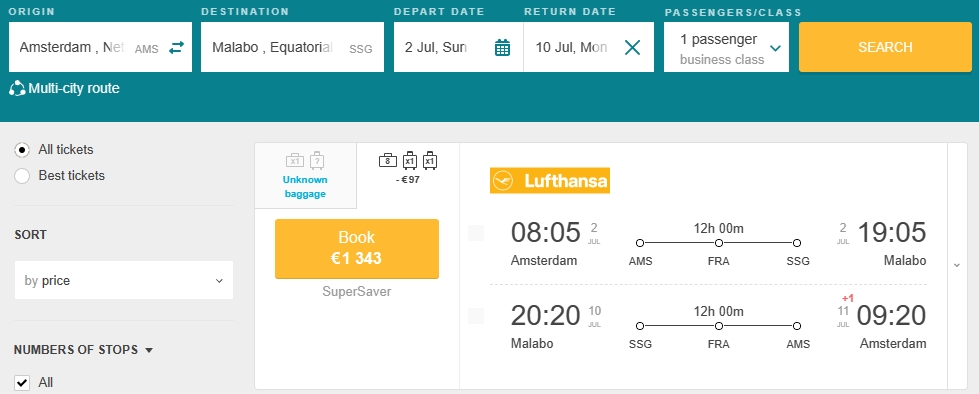 Book your flights here:
Amsterdam – Malabo, 2023-07-02 – 2023-07-10 – Flights search (worldtravelerclub.com)
How to book?
To get this deal you can use the
flight search box
above. Just enter the travel dates, origin, and destination as seen in the deal description and select the cabin class.
Of course, you can adjust your origin and destination as well as your desired dates of travel (though prices and availabilities may change).
You can also book the flights at:
JetRadar
,
CheapOair
,
Trip Flights
,
Swiss
,
CheapTickets
,
Travel-Dealer
,
Kayak
,
Opodo
,
Travel Overland
or
Kiwi
. We always recommend booking directly with the airline.
Malabo, on Bioko island, is a port city and the capital of Equatorial Guinea. Spanish colonial architecture includes the neo-Gothic, twin-towered Santa Isabel Cathedral. The dark green Casa Verde is a 19th-century house that was prefabricated in Belgium. The Equatoguinean Cultural Centre has gallery and performance spaces. To the south, densely forested Parque Nacional del Pico Basilé surrounds Pico Basilé Volcano.
Book here your hotels:
Please note, all the information on this page is accurate at the time of publication. If you view this deal at a later date, prices and deals may have changed.
ACT FAST AND TAKE ADVANTAGE of deals before they're gone! Remember, the best deals will often disappear within minutes!
All deals are limited and may not be available on all dates.
Note:
COVID is still ongoing around the world. Please consult with health authorities on guidance and restrictions regarding travel, including COVID-19 testing, proof of vaccination, and possible quarantine requirements. Here you can find the
current entry requirements for most countries.
Follow and subscribe to
World Traveler Club on Facebook
to remain up to date with our other deals, and
share share share!
More handpicked deals: