Travelers! Now is your chance!
Cheap, full-service flights from London, UK to Australia for £801 for a round trip with Star Alliance airlines.
(Regular fares are £ 1201 RT)

South Australia. This state in the southern central part of Australia offers world-class wine, unbeatable gourmet produce and unique native wildlife. In this vast land of dry grassy plains and rugged hills, you can find emus, kangaroos and wedge-tailed eagles. Visit Cleland Wildlife Park or Breakaways Conservation Park. Explore Coober Pedy – an opal-mining town where people live underground. You can tour the subterranean Catacomb Church.
Travel dates: Great availability on March 2024
Route: London – Sydney – London
Sample: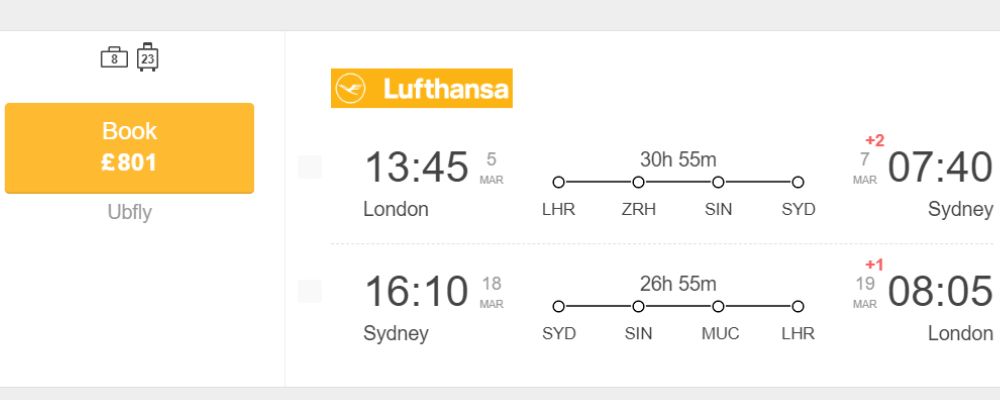 How to book?
To get this deal you can use the flight search box above. Just enter the travel dates, origin, and destination as seen in the deal description and select the cabin class.
Of course, you can adjust your origin and destination as well as your desired dates of travel (though prices and availabilities may change).
You can also book the flights at: JetRadar, CheapOair, Trip Flights, Swiss, CheapTickets, Travel-Dealer, Kayak, Opodo, Travel Overland or Kiwi. We always recommend booking directly with the airline.




Click here to book:
Hotels Flights Airport Tansfers Car Rentals Vacation Rentals Tours & Activities


Book here your hotels in Sydney for less:
Please note, all the information on this page is accurate at the time of publication. If you view this deal at a later date, prices and deals may have changed.
ACT FAST AND TAKE ADVANTAGE of deals before they're gone! Remember, the best deals will often disappear within minutes!
All deals are limited and may not be available on all dates.
If you have a question or you need an individual travel deal, please use our
travel forum
.
You want more deals like this?
As a World Traveler Club Gold or Platinum Member you have access to our
PREMIUM CLUB
and our "Deal Scanners" with over 700 amazing travel deals from over 200 travel sites, portals, blogs, and databases.

Sign up for one of our membership plans
and become a premium member of the WORLD TRAVELER CLUB.
Follow and subscribe to
World Traveler Club on Facebook
to remain up to date with our other deals, and
share share share!