Today we can offer you a perfect stay at a 5-star resort in Cancun for super cheap rates.
You can book at the moment a 4-night stay at a top-rated 5-star Krystal Cancun Resort with the rates starting from only USD 399 for a couple in a Luxury Accommodation inclusive an ALL-INCLUSIVE package. This offer saves you 75% off from regular rates.
So, what are you waiting for? Book now if you are interested.
The rates include a complete All-Inclusive package where you can enjoy unlimited meals & alcholol drinks also free eat & drink for 2 kids under 18 with the best location and stunning beach in Cancun.
This offer also includes On-Site Covid Test
This is your time to have fun without the hassle of carrying extra money around.
Book this amazing hotel deal here!
Example: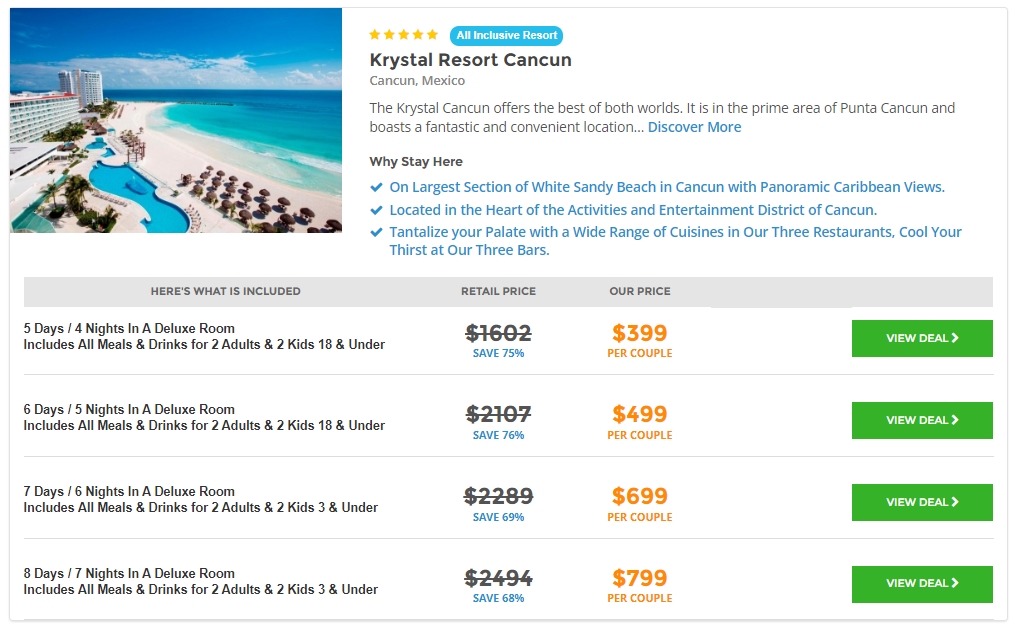 Note: Price Is Per Room For Entire Stay – Not Per Person, Not Per Night
The Krystal Cancun offers the best of both worlds. It is in the prime area of Punta Cancun and boasts a fantastic and convenient location within walking distance of shopping, nightlife and hotel zone attractions yet once you step through our doors, leave the hustle and bustle of the world behind as you relax on our stretch of white sand beach, take a dip in our hotel's panoramic pool, or enjoy a massage at the spa or even better, abandon yourself in our beach bali beds. Everything you could need or want is at your fingertips and our goal is to ensure your ultimate relaxation. This stunning all-inclusive resort offers a huge variety of services and amenities plus luxury guest accommodations. We'll tantalize your palate with a wide range of cuisines in our three restaurants, cool your thirst at our three bars. Boasting an oceanfront setting in the heart of Cancun's hotel zone on the largest beach in town!
Best Location in Cancun! The hotel is located in Punta Cancun, the heart of activities and entertainment. Located between 2 of Cancun's most popular malls and less than a 2 minute walk from all of the most popular restaurants and nightclubs, the Krystal has the undisputed best location in Cancun!
Book this amazing hotel deal here!
Act fast before it's too late!!
Compare the hotel rates here:
Book here your flights to Cancun:
Please note, all the information on this page is accurate at the time of publication. If you view this deal at a later date, prices and deals may have changed.
ACT FAST AND TAKE ADVANTAGE of deals before they're gone! Remember, the best deals will often disappear within minutes!
All deals are limited and may not be available on all dates.
Note:
COVID is still ongoing around the world. Please consult with health authorities on guidance and restrictions regarding travel, including COVID-19 testing, proof of vaccination, and possible quarantine requirements. Here you can find the
current entry requirements for most countries.
Follow and subscribe to
World Traveler Club on Facebook
to remain up to date with our other deals, and
share share share!